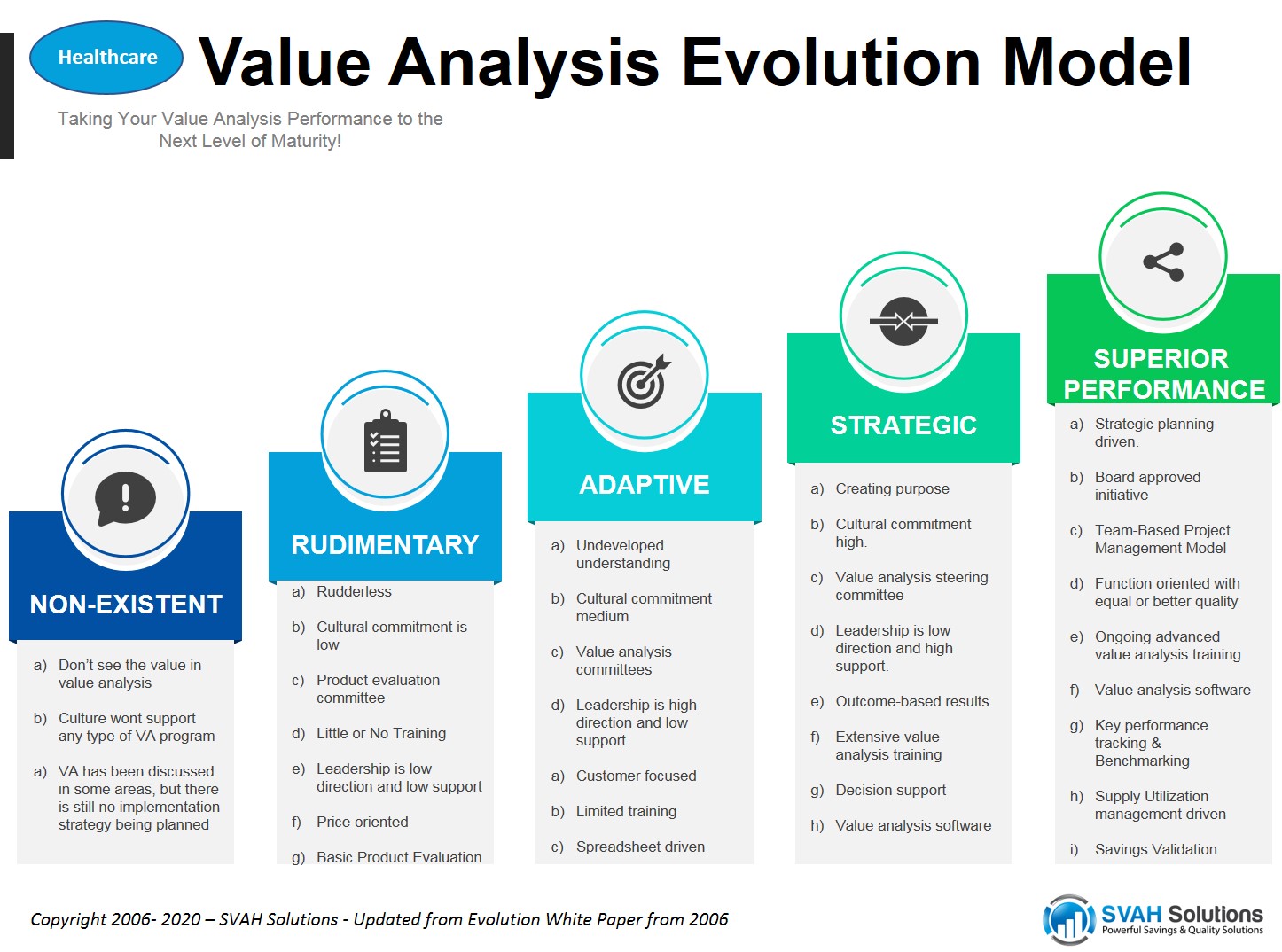 The dynamics of value analysis in healthcare have radically changed for the better in the last 20 years. We have watched as healthcare organizations moved from "sole practitioners" managing this VA function to vice presidents (in some healthcare organizations) determining the relative worth of the products, services, and technologies they are buying. Yet, with few exceptions, hospitals, systems, and IDNs have not reached the "Superior Performance Stage" of evolution in this supply chain discipline.
It's Time for Value Analysis to Evolve
SVAH's surveys show that 87% of acute care hospitals, systems, and IDNs have deployed value analysis teams to manage, monitor, and control their non-salary expenses. This is a great leap forward from the days when sole practitioners tried to manage their healthcare organization's supply chain expenses on their own. Nonetheless, this improvement in value analysis structures hasn't set the stage for value analysis "Superior Performance." That requires, at minimum, a committed culture, new organizational architecture, new skills, technology, and reshaping the way we evaluate our new product, service, and technology requests.
What's Holding Back VA Superior Performance
There are four factors that we have identified below that are holding back value analysis "Superior Performance" at our nation's hospitals, systems, and IDNs:
1. Lack of a Road Map or Strategic Value Analysis Plan (SVAP): Most value analysis programs are started without much thought; thereby, getting off on the wrong foot before they get started. This error can be corrected by developing a Strategic Value Analysis Plan (SVAP) even after you have implemented your current VA program to get it back on track. This Strategic VA Plan is updated annually to provide you with mid-course corrections as your VA program evolves.
2. Winging It Vs. Employing a Scientific & Systematic VA Process: A lack of a defined, repeatable, auditable, scientific, and systematic VA process (not a workflow process) for the functional evaluation of the products, services, and technologies your healthcare organization is buying will have a negative impact on your bottom line. Most healthcare organizations currently don't have a scientific and systematic VA process, and therefore, are only nibbling around the edges of their savings or leaving a lot of money on the table untouched.
3. Addiction to Spreadsheets: Spreadsheets have their place in value analysis, but not to manage new product requests, team management (i.e., attendance, agendas, minutes, contact information), savings reports, surveys, project documentation, balanced scorecards, benchmarking, etc. This is because spreadsheets are cumbersome to use, difficult to share, have no easy data visualization, are prone to errors, hard to scale, etc. Only true value analysis software can remedy this situation.
4. No Savings Validation: SVAH's studies show that 23% to 46% of all contract and value analysis savings fall through the cracks causing understated or overstated reported savings results. Because of this fact, credibility gaps are opening up between VA practitioners and their CFOs. Remember, no savings is a savings until it is validated.
As these four reasons suggest, moving from the "No Awareness Stage" to the "Superior Performance Stage" of value analysis is an evolutionary process. This usually requires a new team architecture, a higher-level of technical skills, and a newer scientific and systematic functional process than is currently being employed.
Envisioning the Future State of Your VA Program
As stated, value analysis will always be an evolving process. However, no improvement can be made with your value analysis program without a future vision of its state. The best way to formulate the future state of your VA program is, as mentioned, the development of a Strategic Value Analysis Plan (revised annually), which encompasses your vision, mission, values , objectives, organization structure, team membership, training, strengths, weaknesses, targets of opportunities, etc., for your VA program. This is important because your SVAP is the glue that holds your VA program together and gives you and your VA team the composition needed to move to the next level of VA maturity. We can tell you that it won't happen overnight, but if you don't get started now, you will be stuck at the same stage (see Value Analysis Evolution Model graphic) of value analysis evermore; thereby, never reaching the "Superior Performance" Stage.
Below are some similar articles that you may find interesting.
Is Your Healthcare Organization Achieving Rapid Cost Reductions?
Interested in a Walk-Through of SVAH's Value Analysis and Supply Utilization Management Solutions? Fill out the form below.